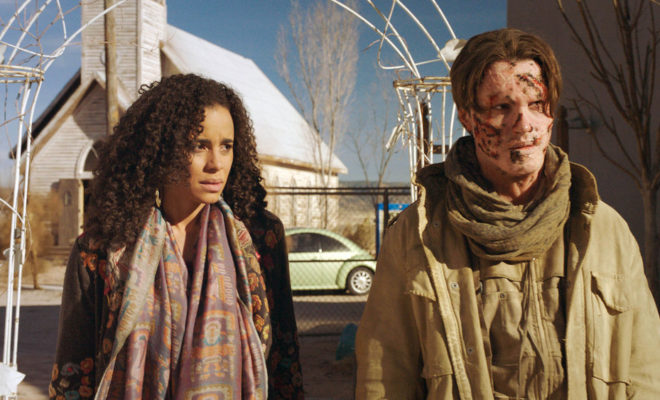 Photos
Tonight on Midnight, Texas: "The Virgin Sacrifice" {PHOTOS}
By
|
And just like that, we've arrive at the season finale of Midnight, Texas. Over the past several weeks we've watched Midnighters wrestle with vampires, a succubus, a rogue angel, ghosts, internal demons, and actual demons. Tonight it all comes to a head as Fiji attempts to save the world by sacrificing herself to Colconnar, the demon who has been haunting her for weeks.
THE GATES OF HELL HAVE OPENED IN MIDNIGHT – With Hell literally about to erupt onto Witch Light Road, and Fiji (Parisa Fitz-Henley) about to be claimed by the Demon who has been tormenting her, Manfred (François Arnaud) leads the Midnighters to take back their home from the evil forces that occupy it. As Bobo (Dylan Bruce) turns his attention to saving Fiji, Olivia (Arielle Kebbel) and Creek (Sarah Ramos) confront the wraiths. Manfred focuses on killing the demon and closing the veil with the help of Lem (Peter Mensah), Joe (Jason Lewis), and the Rev (Yul Vazquez). Manfred takes a desperate gamble and risks his life by asking for help from an unlikely source.
Fiji may think the only solution is self-sacrifice, but as we can see from the photos below, the rest of Midnight disagrees. They appear to retrieve Fiji and prepare to battle the Wraiths. Even Lemuel is out during the day, ready to shoot down some undead baddies. Perhaps fired up over Olivia's terrible wound? It's a battle to the death, and we may not come out of this with all of our Midnighters still standing.
"The Virgin Sacrifice" airs Monday, September 18 at 10/9c on NBC.