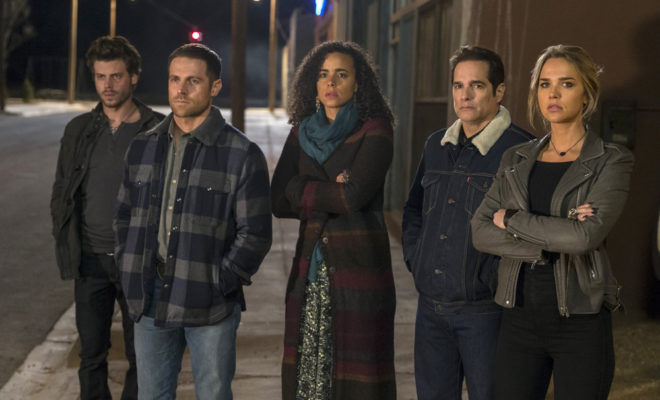 Photos
Check out photos from "Blinded by the Light"
By
|
Next week on Midnight, Texas, we finally learn more about Creek and Connor, and why they're so afraid of their father. The first set of photos from this episode show Something Going Down.
It looks like Connor has been in a fight or some sort of altercation. We know from the episode synopsis that there's a serial killer running around Midnight, targeting young women. Did Connor encounter the killer? And why is Creek so upset when hugging Manfred (bottom photo)?
Initially I thought this photo was part of the set below with Shirtless Joe, but it's obviously taking place during the day where the other set is at night. This must be before or after (I'm guessing before) Fiji talks with the Rev.
Here we have Lemuel, Manfred, and Bobo hunting something at night, presumably the serial killer.
Why is Joe shirtless? Is he explaining himself to someone? The rest of the Midnighters huddled in the street? At some point he's given a blanket, which suggests that his shirtless state is not desirable (I mean, obviously I don't mind…). My guess? He just got busted flying with his angel wings.
Here we have several photos from the day after Fiji talks with the Rev about being haunted by a demon (based on the fact that she's wearing different clothes). It appears that she's conducting some sort of spell or other ritual to expel the demon.
"Blinded by the Light" airs Monday, August 28 at 10/9c on NBC.