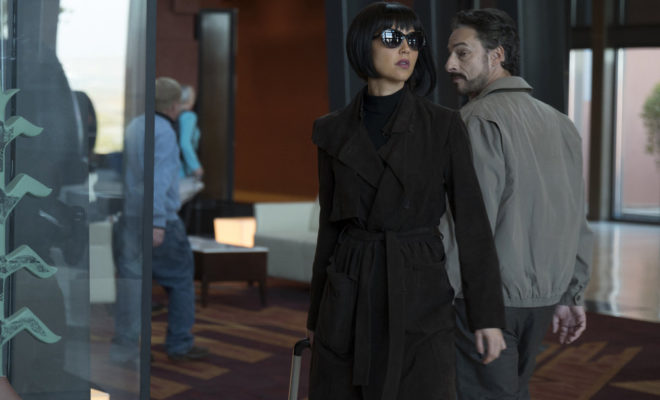 Previews
Tonight on Midnight, Texas: "Sexy Beast"
By
|
This week on Midnight, Texas, a sexy blonde wreaks havoc on the male population, Fiji tries something new, and the Sons of Lucifer return. The real focus of the episode, however, is Olivia's backstory. What will we learn about Midnight's resident assassin?
A MYSTERIOUS WOMAN WITH INSATIABLE APPETITE ARRIVES IN MIDNIGHT — Manfred's (François Arnaud) ability to see the dead leads him to uncover an ancient supernatural who seduces and feeds on men. To protect their town's supernatural anonymity, Manfred, with the help of Fiji (Parisa Fitz-Henley), Lem (Peter Mensah), Joe (Jason Lewis) and Creek (Sarah Ramos), venture out of the safety of Midnight to a roadside bar to stop the supernatural killer. Meanwhile, Bobo (Dylan Bruce) must confront the dangerous bikers who threaten to expose his past. While carrying out a hit, Olivia (Arielle Kebbel) discovers an unlikely link to her father.
"Sexy Beast" airs Monday, August 14 at 10/9c on NBC.
ICYMI:
Join the discussion on Facebook and Twitter, or leave your comments below.