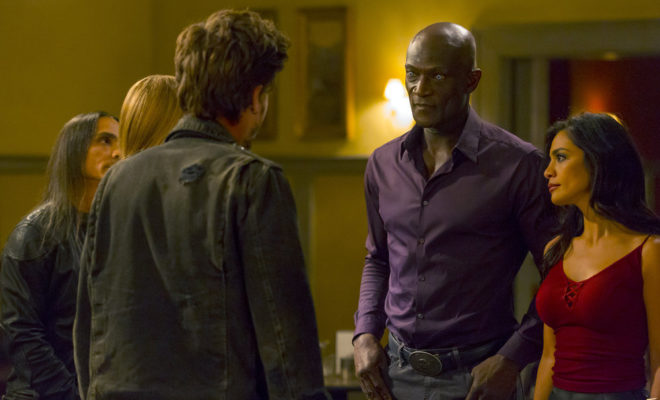 News
Tonight on Midnight, Texas: "Lemuel Unchained"
By
|
The third episode of Midnight, Texas premieres tonight with a look back at Lemuel's past and how he became a vampire.
LEM'S PAST COMES BACK WITH A VENGENCE WHEN A DEADLY NEST OF VAMPIRES DESCEND ON MIDNIGHT — A deadly nest of vampires arrives in Midnight and it turns out they're old friends of Lem's (Peter Mensah) eager to reunite. Manfred (François Arnaud) suspects there's more to their arrival and joins forces with Olivia (Arielle Kebbel) to uncover the real story while Creek (Sarah Ramos) prepares for the worst. Elsewhere, Fiji (Parisa Fitz-Henley) and Bobo (Dylan Bruce) hatch a plan of their own in case the vampires are up to no good. Meanwhile, Joe (Jason Lewis) confides his suspicions about the veil to hell opening in Midnight to the Rev (Yul Vázquez).
"Lemuel Unchained" premieres Monday, August 7 at 10/9c on NBC. In the meantime, here are a few items you may have missed:
Be sure to join the discussion on Facebook and Twitter, or leave your comments below.