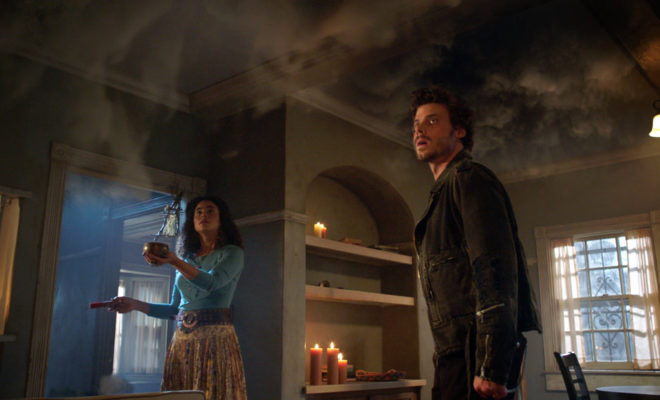 Previews
Watch 5 Sneak Peeks of "Bad Moon Rising" {SPOILERS}
By
|
A new episode of Midnight, Texas airs tomorrow, and we have five sneak peeks to share! The videos below do contain minor spoilers for Midnight, Texas episode 1.02, "Bad Moon Rising", so beware!
Clip #1
We pick up shortly after the end of the first episode. Bobo has been taken to Davy by the Sheriff for questioning, and Midnighters are concerned. Enter new guy Manfred who needs help with a different problem.
Clip #2
Manfred, Fiji, and Joe attempt to exorcise the evil in Manfred's house.
Clip #3
Chuy confronts Joe about his flight at the end of the first episode.
Clip #4
Manfred shares information about Aubrey's killer with the Sheriff.
Clip #5
Joe and Chuy discuss the veil between worlds, which just so happens to be located in Midnight, Texas.
"Bad Moon Rising" airs Monday, July 30 at 10/9c on NBC.