Appearances
MTX at SDCC: The Party!
By
|
Hello, Midnighters! It's Sunday morning and Day 4 of San Diego Comic Con. I'm running on nooooot a lot of sleep but wanted to share some photos and stories from last night's NBC media party celebrating Midnight, Texas.
Venue
The party was at The Oxford Social Club at the brand new Pendry San Diego. Located in the basement, The Oxford is all dark wood, glittering chandeliers, and plush couches. Very intimate, which meant when the cast of Midnight, Texas, arrived, it was low-key and comfortable.
Signature Cocktails & Tarot Cards
NBC always pays attention to detail at their media parties. Every year the cocktails are themed to the show(s) they're promoting, and this year was no different. Check out the drinks menu below: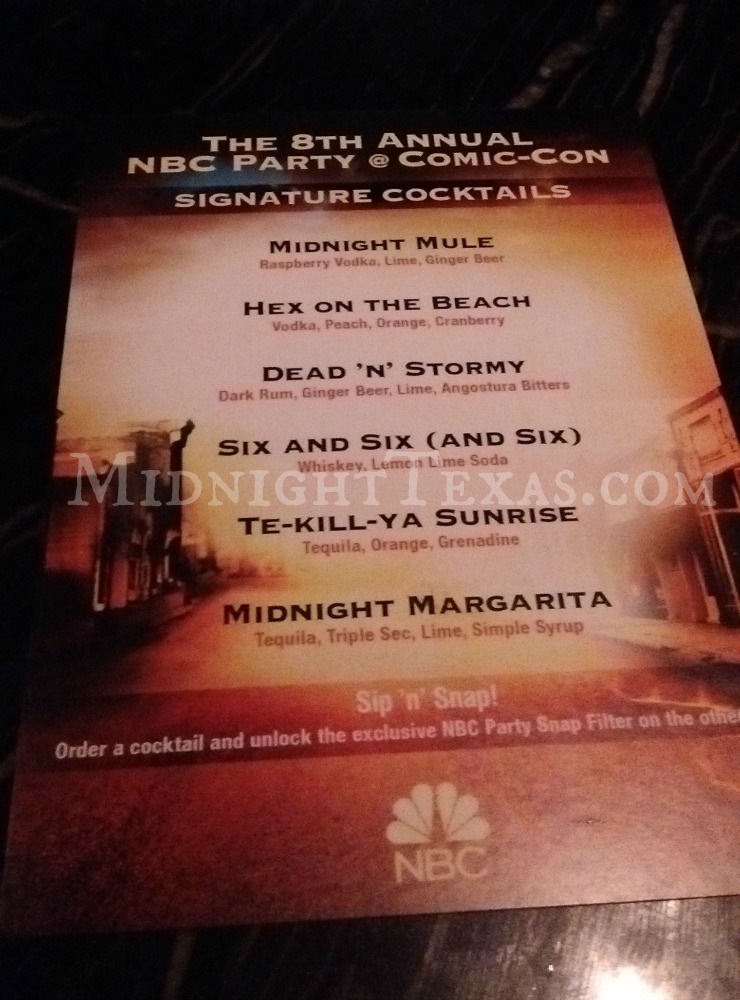 The food was inspired by Texas cuisine: fried macaroni and cheese with peppers, shrimp and grits, white bean ceviche, mini pecan tarts, and red velvet cupcakes.
Off in a corner, two tarot card readers were available. In the spirit of the evening, I decided to have my first reading ever. In case you were wondering, I have a possible career shift, a reinvention professionally, on the horizon and I should rely on my own wisdom to embrace the possibilities. Stay tuned for exciting developments!
Midnighters
The cast and creative team of Midnight, Texas came early and stayed late! They were there to celebrate the show with us, and celebrate a successful day at Comic Con.
Peter Mensah & Arielle Kebbel
We didn't get to chat with Peter and Arielle in the press room*, so it was it was a treat to catch up with them at the party. Peter asked what I thought about the casting, obviously wondering if I was down with him playing Lemuel who is described as "bone white" in the books. I related the story about how someone on our True Blood Facebook page said she was disappointed that they'd cast a black actor to play Lemuel, and I was surprised because Peter is exactly how I pictured his character in the books. "But, Lemuel is black in the books," I insisted on Facebook. "Uh, no he isn't," responded everyone ever. I had to go look it up and sure enough, he's described as practically an albino. I have no idea where that mental image of Lemuel came from, but Peter was delighted to hear that he fit my perfect casting for Midnight's resident vampire!
Monica Owusu-Breen & Jason Lewis
Let's just get this out of the way now: Jason Lewis is absolutely gorgeous and perfectly cast as the angelic Joe Strong. He is so excited about this show and loves talking about all the geeky things. I wouldn't be surprised if he moderates a panel on special effects at a future Comic Con. Monica is probably Midnight's biggest fan. She knows this world and its characters inside and out!
Parisa Fitz-Henley
Fiji is my favorite character from the books, so I was excited to meet Parisa at the party since we missed her in the press room.* She has a warmth and accessibility that I think went a long way in winning her the role of Fiji.
Dylan Bruce
Leah caught up with one of our favorites guys and talked Orphan Black like a couple of nerds!
Bernardo Saracino
Bernardo plays Chuy Strong, Joe's husband, on the show and he's our new bestie. He found out we were with MidnightTexas.com and promptly took us around and introduced us to various cast members. He also revealed that Chuy "is not as quiet" as he appears in the first several episodes of Midnight, Texas. Hmm…
Charlaine Harris
We didn't get photos with Charlaine, but we did have an opportunity to chat with her. We tried not to be total fangirls, but who are we kidding. We are fangirls. Charlaine is gracious and kind, even when you're stumbling over your words to tell her how much her words mean to you.
Francois Arnaud & Sarah Ramos
Our Manfred and Creek were at the party but in great demand. They were pulled away to do some official NBC interviews before we had a chance to chat with them and take photos, but we have a great video from the press room posting soon.
More Midnight, Texas at Comic Con coverage can be found on Instagram and Facebook!
*This isn't unusual. Press rooms are generally an hour long and talent has to get through the video interviews and photo wall (where photographers take their picture against the Comic Con backdrop), then several roundtables of print interviews (e.g. us). We rarely get to speak to everyone simply because there isn't enough time.