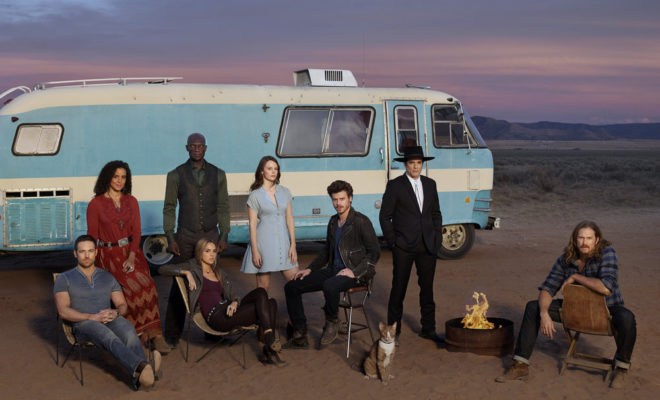 Previews
Midnight, Texas is the perfect summer series {Advance Review}
By
|
Two things stood out to me while watching the first two episodes of Midnight, Texas provided to journalists in advance the show's premiere on July 24.
First: It's creepier than I expected for a network television show. Those of you joining us from True-Blood.net know I'm not great with zombies and gore. There were a couple of moments in the episodes when I had to cover my eyes because the depiction of a waterlogged dead body was too much for me. For most of you, though, that will probably be part of the appeal. Weirdos.
Second: The characters and place (a character of its own) are remarkably well-established from the beginning.
It's no secret that I'm a fan of the source material, Charlaine Harris' trilogy of novels set in a small Texas town that's more of a crossroads than a proper town. As with any jump from page to screen, I was wary about how the characters and story would survive the transition. Fortunately, under the guidance of Monica Owusu-Breen, the answer is "very well."
We arrive in Midnight with Manfred, professional psychic who owes some bad people a lot of money and would like to disappear for a while. On the advice of his (dead) grandmother, Manfred hops in his not-at-all-Pinterest-friendly vintage camper and heads to the Lone Star state. The citizens of Midnight are curious about their new neighbor, tentatively welcoming as they deduce just what sort of person – or being – Manfred is.
In the first episode, we are introduced to each of the residents of Midnight, some in passing, some more in depth. It's a nice balance between meeting the characters and launching the story. A few reveals come faster than in the books – for example, we knew from the previews that Joe Strong (Jason Lewis) is an angel, which is also a big moment at the end of the pilot.
Once we've met everyone and the murder mystery storyline has begun, subsequent episodes are devoted to specific characters and their backstories. Episode 2 goes in depth into the Reverend (yes, his supernatural secret is revealed much earlier than in the books), episode 3 is Lemuel's backstory, etc.
The great thing is that although we're still getting to know these characters week to week, they clearly know each other. There's history between these people, shared moments and events that bind them together. This feels like a community from the first episode, which grounds all the supernatural, sometimes outlandish events happening in Midnight.
Midnight, Texas premieres Monday, July 24 at 10/9c on NBC. Our video roundtable from San Diego premieres shortly afterward!