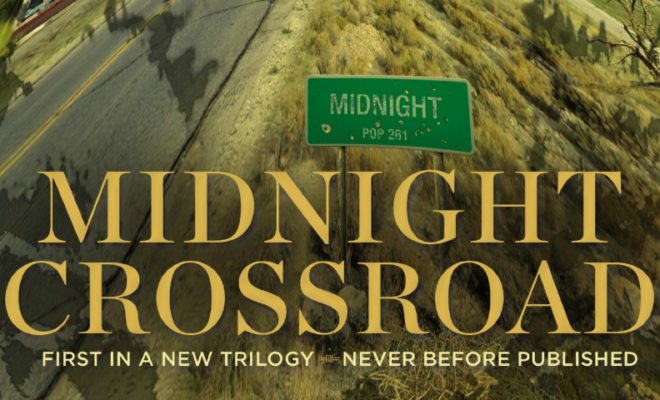 News
Midnight Crossroad: Charlaine Harris Introduces a New Town, Familiar Faces
By
|
Editor's note: This book review first appeared on our sister site, True-Blood.net, on May 6, 2014. We're reposting it here for fans of the new NBC series.
Charlaine Harris kicks off a brand new series this month with the release of Midnight Crossroad, the first in her Midnight, Texas trilogy.
Midnight is a speck on the map of Texas, a crossroads, with a handful of businesses, a smattering of houses, and a collection of residents who look out for each other and don't ask too many questions.
When pawn shop owner Bobo Winthrop's girlfriend turns up dead, suspicion points a finger at a few possible murderers, and secrets are revealed as the townsfolk attempt to unmask the killer. (I want to make a vague reference to whodunit and/or why they did it, but instead I'll just say that Charlaine kept me guessing.)
Fans of Charlaine's other series will find a lot of familiar themes, settings, and even faces as she introduces readers to Midnight. Manfred Bernardo, a psychic who appeared in two novels from the Harper Connelly series, serves as the reader's guide to the town and its secrets. His arrival in Midnight allows us to explore the place and meet the people who have chosen to live there, although his is not the only perspective. Unlike many of Charlaine's other novels, this is a third person narrative, switching between various characters as we see Midnight through their eyes.
The small town setting is reminiscent of Bon Temps, Shakespeare, and the many places Harper looked for dead people, continuing Charlaine's fascination with depicting small town life. Speaking of Shakespeare, Lily Bard gets a shout out in this novel, as does Harper herself, and I swear there's a reference to Aurora Teagarden in there somewhere. The Southern Vampire Mysteries references aren't quite as overt, but more than one character shares certain traits readers of Sookie's adventures will recognize. I am a big fan of an author weaving together characters from other series or books, even in passing. It continues the world building from previous stories and connects people and events in ways that make fiction feel more real. Plus it's a payoff for longtime readers – a shared history, a secret society.
The pace is slow here, in keeping with the pace of the town itself, but the action picks up toward the latter third of the book as the hunt for the murderer intensifies. It's always tricky starting out a new series, no matter the medium, because you have to introduce a setting, characters, and connections before the story can really start moving. We get a bit of shorthand here, since longtime fans are already acquainted with Manfred and can recognize clues to the backgrounds of other characters, but it's still slow going at the beginning. We get to know the characters bit by bit, in sometimes maddeningly small doses, and clearly there is much more to discover about Midnight when the final page is read. After all, Charlaine is a master of leaving us wanting more.
Midnight Crossroad is available now.
Note: I received an advance copy of Midnight Crossroad from Penguin. All opinions are my own.