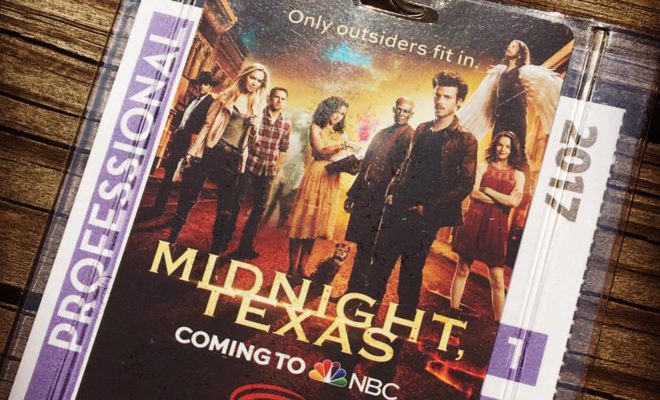 News
Midnight, Texas Impresses at WonderCon
By
|
NBC premiered the first episode of Midnight, Texas at WonderCon today. Our operative in the audience filled us in on what went down in the room.
MINOR SPOILERS AHEAD
Overall impressions:
The pilot received a good reaction from the crowd.
Contrary to other supernatural and vampire series, and its own name!, Midnight is "really bright".
One True Blood fan said she thinks Midnight, Texas is better!
The cast and producers were on stage for a brief Q&A and "had great chemistry".
Plot details:
The murder mystery is the over arching plot of season 1, so it sounds like the first season follows the first book's timeline.
We already know who/what Joe (Jason Lewis) is from the key art and the preview, but it's confirmed that the reveal is in the first episode. (Non-bookies, that reveal doesn't take place in the first book.)
However, Olivia (Arielle Kebbel) remains pretty mysterious in the pilot.
Peter Mensah's vampire, Lemuel, "is pretty cool and has blue eyes."
Fiji's familiar, Mr. Snuggly, is CGI.
It looks like Manfred (

François Arnaud

) and Creek (Sarah Ramos) might be our first 'ship.
Xylda (Joanne Camp) won't be the only ghost we – or Manfred – see.
Midnight, Texas premieres July 25 on NBC.